Learning spaces at the Faculty of Natural Sciences
Undisturbed learning and working, sharing ideas with other students - these are important aspects when it comes to be successful in your studies. With special learning spaces, Leibniz Universität Hannover offers areas for student to learn and work.
Information on the available rooms at the faculties and institutions, details of the equipment and a booking option can be found on the website Projekt Lernraum.
At the Faculty of Natural Sciences, there are workspaces open to students at all locations. In addition to electricity connections and free internet access via WLAN, some rooms also offer snack and drink vending machines, kettles and printing services.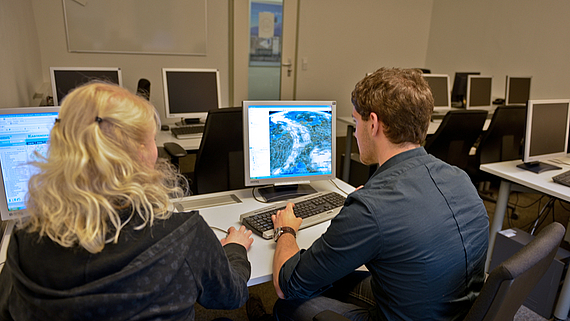 Student workstations
Other rooms and workstations are provided by libraries such as the TIB (Technical Information Library) and LUIS (Leibniz University IT Services). In addition, there are special rooms such as the Room of Silence, which is intended for relaxing, praying or meditating.