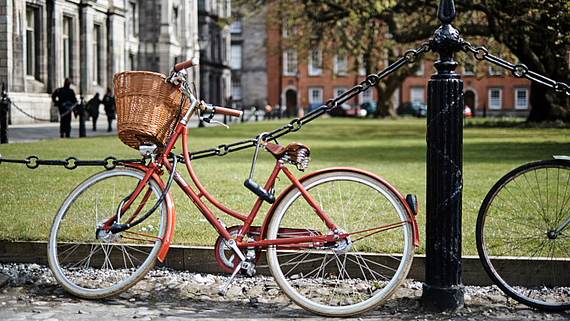 From winter semester 2022/23 onwards, the Institute of Economic and Cultural Geography, in cooperation with the Department of Economic Geography of the University of Groningen, will offer up to five students each year the opportunity of a double degree: a degree from two universities.
If you study the double degree track, you will take Economic Geography in Hannover in the first year and Economic Geography in Groningen in the second year. The master's thesis will be completed at the University of Groningen. Upon successful completion you will receive the master's certificates of both programmes as well as a joint certificate of completion of the double degree.
Application procedure
The double degree track is not a stand-alone programme, but an elective option in the master's programme in economic geography. Interested students indicate that they wish to take this option when applying for the master's programme. Five study places are allocated each year via an internal procedure.
You'll find information on application deadlines during the introductory week of the first master's semester. If you do not receive a place in the double degree track, you can still apply for a place at a partner university for a stay abroad in the home track, the regular programme in Economic Geography.
Letter of motivation (max. 500 words)
Final grade of the Bachelor's programme
Proof of sufficient English language skills (C1 equivalent).
This must be presented to the University of Groningen by May 1 of the year in which the stay there begins.
Please note:

Foreign students who have not already obtained an educational degree in Germany, in German, must already provide proof of a C1 equivalent in German when applying for the Master in Economic Geography in Hannover.
Living and studying
"Willkommen in Hannover"

About 500,000 people live in Hannover, the capital of Lower Saxony. Of these, about 50,000 are students, about half of whom study at Leibniz University. Due to its central location, many cities in Germany can be reached very easily by train from Hannover. However, there are plenty of reasons to stay here: In its diverse neighborhoods, everyone can find suitable bars, restaurants, but also cultural and sporting activities. With its many parks, forests and other green spaces, Hannover is considered one of the greenest cities in Germany.

Leibniz University Hannover (LUH) is not a campus university. Nevertheless, most of the institutes and departments are quite close to each other and are connected by the tram lines 4 and 5 between the stations "Königsworther Platz" and "Herrenhäuser Gärten". The Institute of Economic and Cultural Geography is also located in that very area and shares a building with the Social and Political Sciences.

"Welkom in Groningen"

The city of Groningen is located in the identically-named province in the northeast of the Netherlands, not far from the North Sea coast. From Hannover, Groningen can be reached by train in less than four hours. To Amsterdam, travel time from Groningen by train is about two hours. About a quarter of the approximately 200,000 inhabitants are students. Like many cities in the Netherlands, Groningen is exceptionally bike-friendly. Almost all routes are done most quickly and practically by bike. In Groningen's city center, modern bars, cafés and restaurants are lined up close together.

According to the prestigious Shanghai University Ranking, our partner university has consistently ranked #60-#70 among all universities worldwide in recent years. Only three German universities and one Dutch university are ranked better. The Faculty of Spatial Sciences, where our partner institute is located, is situated north of downtown Groningen on a modern campus.

Costs and financing

In the first year of study, you pay the semester fee at LUH, totalling about €400-500 per semester. The semester fee includes a ticket that allows you to use all public transport in the Hannover metropolitan area free of charge. In addition, you can travel throughout Lower Saxony and as far as some cities in neighboring federal states on local trains.

In the second year of study, you can take a leave of absence from LUH and thus pay no semester fee in Hannover. In Groningen, the fee of about €1,100 per semester (for EU citizens). Non-EU citizens pay about €8,000 per semester.

The cost of living in Groningen is higher than in Hannover. Part of the costs can be covered by the Erasmus mobility grant. This must be applied for at the International Office of LUH. Here, the entire academic year in Groningen is supported with approximately €400 per month.
Further questions?
Louis Knüpling, M. A.
Research Staff

Address
Schneiderberg 50
30167 Hannover
Louis Knüpling, M. A.
Research Staff