International Horticulture (M. Sc.)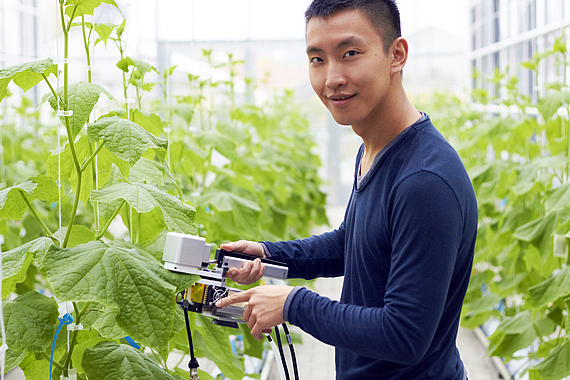 Fruits, vegetables, flowers and trees – improving their quality, yield, economic performance and their eco-friendly cultivation are the domain of horticultural scientists. We do research in various fields of plant biotechnology, crop production and horticultural value chains, from molecular plant breeding and plant architecture modeling to the economics of crop production, horticultural value chains and market research.
The two-year Master of Science programme International Horticulture is heavily focused on the master's thesis research project. The twenty-month master's thesis and associated modules make the thesis the main part of the Master of Science programme.
Students can choose thesis supervision and courses from the fields of fruit and vegetable science, floriculture, woody plant sciences, biostatistics, plant propagation, plant nutrition, phytomedicine, plant breeding, molecular plant breeding, biotechnology, molecular biology, plant genomics, plant proteomics, botany, physiology as well as horticultural economics.
For DAAD scholars compulsory business and leadership courses are offered.
Programme objectives

Main goal of the Master of Science in International Horticulture programme is to enable international students to solve a problem through independent research and thus to contribute to the scientific knowledge process. This requires the acquisition of specialist knowledge and the ability to analyse a problem independently, to evaluate alternative solutions, if necessary to acquire new methodological knowledge and to present a final assessment.

The nature of the problem to be solved is usually of secondary importance for the learning success. Graduates often confirm that these skills are an essential basis for their competence to act, regardless of whether they have embarked on a scientific or practical career after completing their studies at Leibniz University.

Communication, which is practiced in numerous colloquia with the presentation of one's own research approaches and later the results of the work, is also important for subsequent professional success. Working in teams is also a learning objective and takes place practically in the respective research groups of the supervisors.
Discontinued degree programme
This degree programme ends, no further enrolment possible. The last deadline for enrolment was winter semester 2021/22.
Course structure
The master course is modular in structure: Thematically related courses, e.g. lectures, seminars, experimental exercises and internships, can be combined into one module. The modules are assigned credit points (LP) according to the European Credit Transfer System (ECTS).
Credit points reflect the average time spent on course attendance, self-study and exam preparation required to pass the module. An LP/ECTS is awarded for an average workload of 30 hours. As a rule, 30 LPs/ECTS are acquired in one semester.
The Master's programme comprises a total of 120 credit points (LP/ECTS). It consists of compulsory and required elective modules.
During application students decide to study in German or English language. The three majors offered in English language comprise Plant Production and Propagation, Plant Biotechnology, Physiology and Genetics and Economics. The fourth major Gartenbauliche Wertschöpfungsketten is taught in German language.
Module catalogue
International Horticulture (M. Sc.)
All courses are listed and described in the Module cataloque (Modulhandbuch). A short overview of all modules can be found in the module overview (Modulübersicht).
Schedule of lectures and timetable
Completing your degree and career prospects
Master thesis

One of the major tasks and the core of the research oriented Master of Science program in International Horticulture is the production and completion of a thesis. Chronologically, it includes the drafting of a research proposal and its presentation in a colloquium, the conduct of research in laboratories or in the field, the writing of a research report and its presentation and at the end this is summing up to the master thesis which is defended in a final colloquium.

Consequently, presentation skills will be as well trained during the program by six to seven presentations of the thesis in the course of the two years of study. Students will often present their research within their supervisor's own research group before presenting in the colloquium.

Topics for the thesis depend on the choice of major and are usually proposed by the supervisor, but students may always propose their ideas and discuss with their supervisors. Since the planning of the work in the three English-speaking specialisations is already presented at the end of the first semester, the choice of topic is carried out as soon as possible after the semester start. Interested students and applicants can visit the supervisor's website to inform themselves about general topics the research group is working on and recent and past publications.

PhD studies

Many of the MSc International Horticulture graduates of the past 20 years have carried out a PhD after their studies. Numbers vary between years from 20% to 70%. About one third of those have accomplished their PhD at Leibniz University in Hannover, the majority in Germany and the rest elsewhere.

Alumni perspectives

Keeping in touch with our alumni contributes to the research of our university and our alumni are the flagship of our degree programme. They often successfully do their doctorates and advertise our degree programme in their home countries and by staying in contact with them we can prove the success of our degree programme with their statements. Alumni contact us in order to establish and maintain their academic network, they meet academics from our university within the framework of DAAD Alumni Workshops, which bring them to Germany or which we conduct ourselves.

Some alumni remain in Germany for some time for various reasons, e.g. to gain a doctorate or work experience. For example, a graduate has been employed by a breeder with the aim of gaining further knowledge before starting his own business in his home country.

Other graduates work in national authorities or industry, or in horticultural production companies in their home countries or in Germany. International organisations and internationally established companies or corresponding departments are also interested in our graduates and their language skills, e.g. to send them to their home countries after a trainee phase and work for the company there. We therefore observe that careers are increasingly circular, especially because the horticulture industry is highly globalized.
Formalities and regulations
Regulations on application, admission and the course of a degree programme are described in regulations and are legally binding. The admission regulations regulate the application, selection and acceptance procedure for the program.
The examination regulations (PO) define the examination requirements and procedure. It specifies the modules in which examination and study achievements are to be performed as well as the number and type of examinations. In addition, it contains specifications for the processing time of final theses. The PO specifies what information is to be provided when registering for the examination, whether and, if so, what evidence is to be submitted, within what period of time repeat examinations are to be held and how to proceed in the event of missed examinations.
Degree course-specific rules
Please take into account that only the German version of the admission and the examination regulation is the legally binding version. English translations of these documents will be provided soon. They will serve only as an aid to understanding
Exams and Assessment: timetable, registration and information
Please register each course you want to take in StudIP. Additionally, you must register for every exam in QIS (HIS-LSF) during the registration periods. Look for course titles or lecturers. You can withdraw any time.
For the modules A04 and A05 as well as your master thesis, forms have to be submitted to the Examination Office (Akademisches Prüfungsamt) in the University's main building (Welfenschloss), room F 309 (Mon - Thu 10:00 - 12:30 & Thu 14:00 - 16:00).
Programme coordinator and academic advisor
Schegitu-Alem Genette Teshome